Polynite, the product
Polynite is intended as a protective device, but can be used for several purposes.
They are 81 cm wide and expanded 182 cm long. The thickness of the material is only 3 mm.
The weight of the plate is about 3 kilos and it is almost unwearable and difficult to damage.
Folded, the plate measures 81 x 91 cm.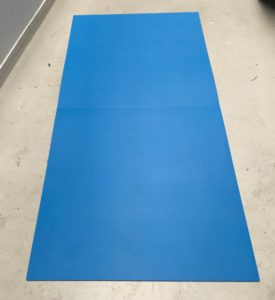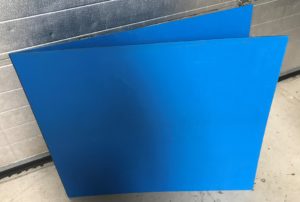 Polynite, application
It can be applied in many different ways and new applications are regularly revealed. The most famous application is in the moving industry, where the plate is used to protect floors and walls during the move. In the meantime, the plate is also used by contractors who do not want to have floors and walls ready damaged. The record is also used in sports halls and for events. The Polynite floor is then laid over the existing floor. The hall can then be used by large groups of people and for special sports or exhibitions, without damaging the original floor.
The Polynite plate is also often used as a "threshold plate", in order to pass a threshold/bump without problems. This can be done with, for example, a trolley, gauze car, wheelbarrow or transport dog.
Founder Sanvic
The Japanese Sanvic (part of the Kaneka group) produces several plastic plates and foils, including Polyofine and PVC.
Sanvic has developed Polynite and is therefore one of the leading products Sanvic brings to market.
Sustainable
Sanvic has confirmed that, if the plate reaches the end of its lifespan, it can be simply shredded. She can then serve as raw material for new plates. New protection plates have the same properties as the original.
The life span of a plate has not yet been determined. The first protective plates , from 20 years ago, are still in use. For the time being, we only keep it on a life span of at least 20 years.
Polynite, strenght
The strength of Polynite was tested in Japan. Given the use, it is mainly about the point load when driving over the plate. As can be seen from the report below, we are talking about very large forces that are needed to cause the "wheels" to damage the Polynite.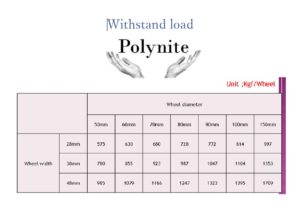 Technical Specifications
The factory has confirmed various aspects to us.
Is Polynite resistant to chemicals?
Yes, it is resistant to almost all organic solvents, except strong oxidizing agents. Polynite is resistant to acid.
At what temperature will it melt or burn?
The melting point is 160 degrees Celsius. Self-ignition takes place at a temperature of 388 degrees Celsius.
Are toxic substances released when burned?
When Polynite is burned, Carbon Monoxide and Carbon Dioxide are produced. There is no carcinogenic gas formation.
Buying Polynite in The Netherlands
Polynite is for sale in portions of 50 plates. The plates are packed per 5 pieces. The price depends on currency fluctuation and availability in Japan. Attempts are always made to keep a stock in the Netherlands. It is sold in the Netherlands via Scherp Verpakkingen. They can inform you directly about the price in force, even if you wish to purchase less than 50 plates. Send your application to hans@scherpverpakkingen.nl
Buying in Europe
Polynite can be delivered throughout Europe. Directly via tstuij.nl . Send an application to: tom@tstuij.nl Offered prices are always delivered "freight paid"and excluding VAT.
An exception is the United Kingdom, customers there are served directly from Japan. They can contact polynite1@gmail.com
Compare the costs
At first glance, a 50 m2 stucco, as you can buy it from the Gamma for € 27.00 is quite advantageous. Also the widely used cover is often on offer at the Gamma for € 7,99 for 10 m2 . Both products, both the stucco and the cover, are widely used. If Polynite is opposed to this with a consumer price of € 60.00 per plate of 1.5 m2, the choice seems made quickly.
However, the Polynite cover plate lasts year after year. As already reported by Sanvic, Polynite is only made 20 years and the first protective plates are still in use.
Stucco, Cover, Masonite
So see the price of Stucco , € 0,54 per m2. Cover, € 0,80 per m2. Polynite, € 40,00 per m2.
If you have used 75 times stucco, the 76th time the Polynite plate is more advantageous.
Similarly, the cover, which is overtaken by Polynite after 50 times in cost use.
Besides, Masonite plates quickly cost € 2.50 per m2. However, Masonite plates are intended to be used more often. But in practice, they quickly become damaged and are already discarded after 1 or 2 times.
Entrepreneurs are therefore more advantageous when they use Polynite. Year after year, the plate can be used as a protective plate, cover plate, floor plate, threshold plate, road plate or wall protection. This while it is more advantageous than the disposable products that were previously used.
Of course, there is no cost to order, pick up, checkout of stucco or cover.
Not only is the product sustainable, also working with it contributes to a better world.
Give it a chance!
Of course, you may have doubts as to whether it really works as well as is told. Now that's easy to get fixed. It is possible to rent the plates at an attractive rate. Feel free to contact Varodarent, which wants to rent the plate to you, under the name PRO-TECTOR.